Paprika is so much more than a coloring agent!
It is made by grinding the pods of the pepper plant capsicum annuum
In Hungary there are 6 classes of Paprika
The most common pepper to make Paprika is the sweet red pepper
Paprika is a National spice in Hungary with a 200 year history
The villages become a vibrant red color at harvesting time when the peppers are hung with string outside and along fences
Paprika is perishable and is best stored in a cool dark place.
Traditional Hungarian dishes that use Paprika are Goulash and Papikash
It is also added to Spanish Chorizo and Turkish and Portuguese soups and stews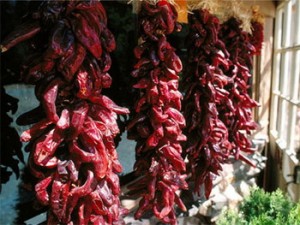 But why not get creative !
add it to potatoes or fries
add to chicken or fish
use in black beans or stews
@Hanneke on twitter states that she adds to chicken, potatoes in dressings and the smoked paprika gives a wonderful smoky taste and aroma.
So what are you going to add your paprika to?
Recent Posts
The dried seed of the cuminim cymimuni plant makes cumin seed. cumin makes up a large proportion of …

Oregano means Joy of The Mountain in Ancient Greek Ancient Greeks believed that cows that grazed …

Paprika is so much more than a coloring agent! It is made by grinding the pods of the pepper …