Product Size Comparison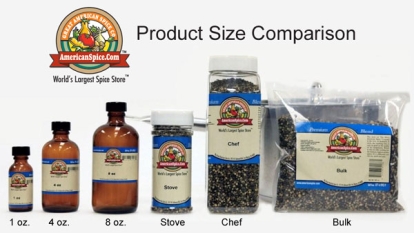 Size Matters...
Sometimes you need a little spice in your life. Other times, you need a lot. Whatever the case may be, The Great American Spice Company can help you out. Because we offer our spices, spice blends, powders and other dry mixes in multiple sizes - stove, chef, bulk and larger. And because we sell our spices by the weight of the product, not the container, you always know you're getting the most spice for your money.
Spices
Stove size is our smallest bottle and it holds 8.4 ounces of liquid. Our Chef size is a larger bottle that holds 32 ounces of liquid. Both come with their own shaker/spoon flip-top. Some spices, like Parsley Flakes, will fill a Chef container at 1.75 ounces. Coarse Sea Salt, however, would fill the same Chef size container by weight at 38 ounces. The Bulk size is a plastic heat-sealed bag providing the most spice for the money because of its lower packaging cost. In most cases your best value is our Bulk size.
Flavorings
In addition, we offer some of the finest flavoring oils available in 1-ounce glass bottles and three sizes of exceptional quality vanilla concentrate in 1-, 4- and 8-ounce glass bottles.
Whatever size or item you need, you can be sure that you're getting nothing but the freshest, highest-quality products possible. Because at The Great American Spice Company, that's all we sell.